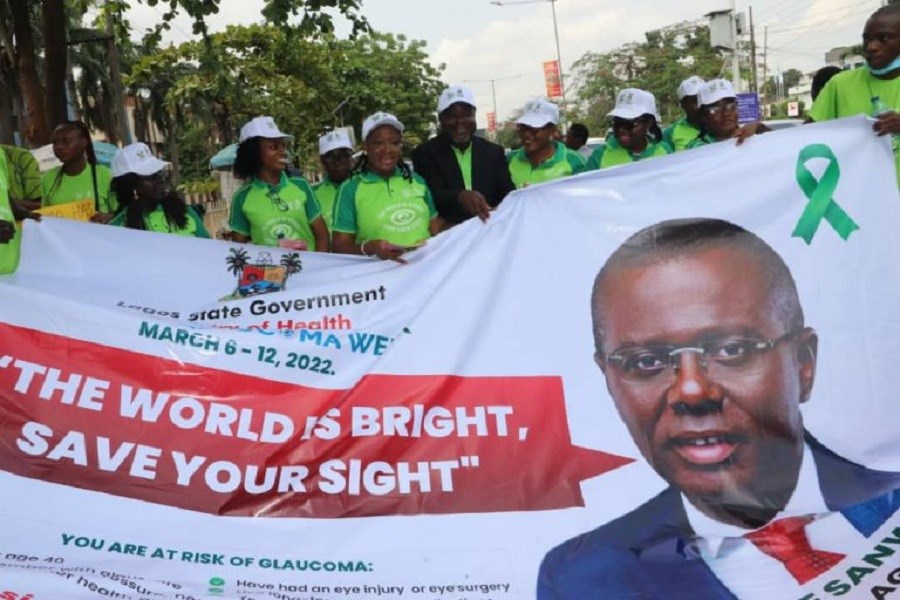 WORLD GLAUCOMA WEEK: LASG organizes an awareness walk and a free eye pressure check
Regular eye checks will prevent irreversible blindness that can be caused by glaucoma and other blinding conditions.
The LAGOS State Department of Health organized an awareness walk and free eye pressure check to commemorate World Glaucoma Week of the year 2022 in Lagos from Sunday March 6 to Sunday March 12, 2022.
The Lagos State government also took the opportunity to warn citizens to avoid associating with unqualified eye health personnel, adding that regular eye checks will prevent irreversible blindness that can be caused by glaucoma and d other blinding conditions.
Speaking after the sensitization march, the Permanent Secretary of the Ministry of Health, Dr Olusegun Ogboye explained that the patronage of unqualified eye health professionals for eye care services is contrary to the efforts made by the government and relevant stakeholders to reduce the prevalence of preventable diseases. blinding eye conditions.
Dr Ogboye noted that the theme for World Glaucoma Week 2022, "The world is bright, save your sight", highlights the need for citizens to take responsibility and take good care of their lives. eyes to prevent visual impairment and irreversible blindness caused by Glaucoma and other blinding eye conditions.
He said: "The eye is a very delicate organ in the body that requires proper attention and treatment by licensed eye health professionals. The eye is such a precious gift for all human beings and it is something that we need to pay special attention to. I would tell anyone who patronizes quacks for their eye health care that they need to re-evaluate the importance of their eyes. I know how important my eyes are to me, and I certainly won't subject them to just anyone to look at them, and I certainly won't insert any fluids or medications that aren't recommended.
Dr Ogboye said the awareness walk organized by the Department of Health to commemorate this year's World Glaucoma Week aims to raise awareness and awareness of the dangers of glaucoma as a silent killer of sight.
Along the same lines, Consultant Ophthalmologist and Director of Medical Administration, Training and Programs at the Ministry of Health, Dr. Funmilayo Shokunbi explained that blindness caused by glaucoma is irreversible and incurable. , but can be successfully managed if detected early enough.
Emphasizing the need for regular eye check-ups as a preventive measure against glaucoma, Dr. Shokunbi noted that citizens over the age of 40, whose family members have glaucoma, have high intraocular (eye) pressure or have had an eye injury or surgery. are at risk for glaucoma.
The ophthalmologist further revealed that the Ministry of Health is arranging free eye screenings and intraocular pressure checks for public servants including members of the Lagos State Executive Council, the body of permanent secretaries as well as officials as part of the week-long Global Glaucoma Commemoration activities in Lagos State.