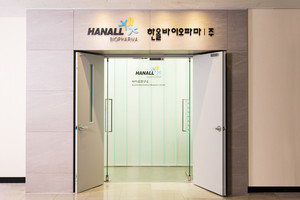 [Special] HanAll Biopharma listens to the voice of patients suffering from rare and incurable diseases
It is difficult to treat rare and incurable diseases because the causes and methods of treatment remain unclear. However, new therapies are emerging one after the other to fight against these diseases.
Until now, treatments for rare and incurable diseases have focused on slowing disease progression or relieving symptoms. However, with medical advances and political support in recent years, drug manufacturers are actively engaging in the development of new drugs.
Most major multinational drug makers and some Korean companies are investing heavily in research and development to beat rare and incurable diseases. HanAll Biopharma is one of them.
Tapping into the market with unmet medical needs
Since 2007, HanAll Biopharma has adopted a "patient-centric" strategy to develop innovative medicines and expand treatment options for patients with unmet medical needs.
Using this strategy, the company can identify patient annoyances throughout the pipeline cycle, from market research to clinical trials, and reflect the results to improve their quality of life.
HanAll Biopharma's HL036 pipeline, jointly developed with Daewoong Pharmaceutical as a dry eye treatment, shows how the strategy works. Dry eye syndrome is caused by too much or too little tear production. If it progresses to a serious condition, it can damage the vision or the cornea. In addition, it causes burning or tingling sensations that persist for a long time, significantly reducing the quality of life of patients.
The Kospi-listed company found a niche market where there was no cure for dry eye despite the growing number of patients and has been conducting R&D for a new treatment mechanism since 2010.
According to statistics from the Health Insurance Review and Assessment Service, Korea had 2.45 million patients with dry eye syndrome in 2020, and the number is increasing. However, treatment options are limited, with only two dry eye treatments available on the market: Restasis from Allergan and Xiidra from Novartis.
HanAll Biopharma expects HL036 to not only cure dry eye syndrome, but provide better convenience.
While conventional drugs only relieved symptoms and prevented the disease from progressing further, HanAll Biopharma's drug aims to inhibit TNF alpha, a factor that causes inflammation of the ocular surface.
Anti-TNF antibodies are large particles that cannot penetrate the tissues of the eye. The company applied its protein engineering technology to create an optimized molecular-sized biopharmaceutical to make it highly distributed in ocular tissues to overcome this shortcoming.
Developing drugs that reflect patient preference
HanAll Biopharma's clinical studies and pipelines that reflect the needs of patients with rare diseases are also attracting attention. Not only do they relieve symptoms, but they identify what impairs quality of life and reflect patient preferences for drug forms, dosing methods, and dosages.
HL161 is an investigational therapy for autoimmune diseases such as myasthenia gravis that actively addresses patient needs from the initial research phase through clinical development.
Patients with myasthenia gravis dramatically reduce quality of life because antibodies, which are meant to defend the body, attack the junctions between muscles and nerves, leading to muscle weakness and disability.
According to a survey by Immunovant, a US partner of HanAll, out of 80 patients with myasthenia gravis, 94% of respondents preferred continuous dosing to intermittent dosing. Due to fear of sudden seizures or convulsions, patients with myasthenia gravis prefer to maintain improved symptoms through continued administration of medication. In addition, continuous administration helps patients control the frequency of pain or symptoms caused by seizures and lead a normal life.
Considering these patient needs, HanAll designed the clinical study of HL161 which administers high-dose treatment for 12 weeks to rapidly improve symptoms and maintain therapeutic effect through low-dose treatment.
HanAll considered patient convenience in the drug form of HL161. The company developed it as a subcutaneous injection given at home instead of an intravenous injection that requires administration by a healthcare professional. Thus, patients do not have to go to the hospital. Moreover, the injection was highly concentrated in 2cc, which can be administered quickly in 10 seconds, anytime, anywhere.
HanAll spent $37 million on R&D in 3 years
HanAll Biopharma continuously invests in the R&D of biopharmaceutical drugs in order to bring new therapies to patients suffering from incurable diseases.
Over the past three years, the company has invested 47 billion won ($37.4 million) in R&D. Last year alone, R&D investment amounted to 15 billion won, which accounted for 15% of annual sales last year. As a result, HanAll's R&D to revenue ratio ranks among the top Korean pharmaceutical companies.
The company said aggressive open collaboration with partner companies is HanAll's other strategy to accelerate R&D. Joint development can reduce risk and accelerate R&D for key pipelines, the company said.
HanAll's Chinese partner, Harbor BioMed, and US partner Immunovant are conducting trials of HL161 in China and the US, respectively, to treat myasthenia gravis. For the HL036 trials, HanAll is working with Harbor BioMed in China and Daewoong in the United States
Last year, HanAll Biopharma invested in Alloplex and Nurron. Recently, it has sought to invest in Turn Biotechnologies, which studies cellular reprogramming to roll back the biological clock of cells.
The company is looking for opportunities to continually expand new pipelines.
HanAll Biopharma co-CEO Jeong Seung-won said the company has been dedicated to finding new biopharmaceuticals that can bring hope to patients with rare and incurable diseases to improve human health.
"To diversify treatments in the global market, we will continue to work on new drugs, starting with the treatment of autoimmune diseases HL161 and the treatment of dry eye syndrome HL036.