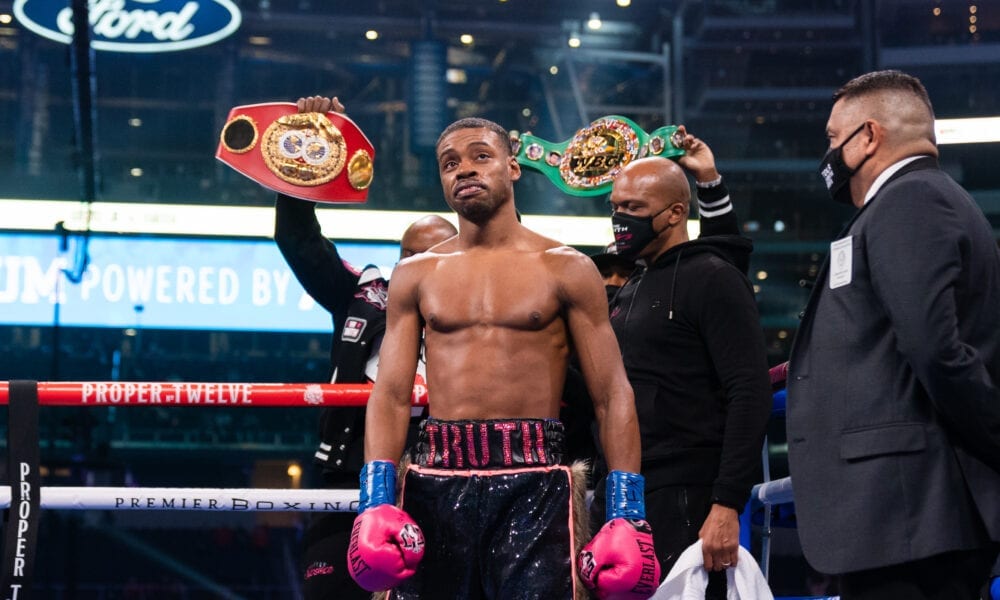 Report – Showtime Will Air Errol Spence-Ugas PPV
Earlier this week, the undefeated unified welterweight champion Errol Spence announced he was returning to eye surgery in a pay per view with fellow champion Yordenis Ugas of Cuba. Now, an interesting report from Thursday night indicates who will apparently be televising the fight.
Boxingscene.com's Keith Idec got the story first that he learned that Showtime Championship Boxing will be handling another major PPV, recently for the upcoming Spence-Ugas on April 16. This, because the network that has televised world title fights for over 30 years had the future Hall of Famer's PPV Canelo Alvarez gaining undisputed super middleweight status with a TKO victory over Caleb Plant last November,
Spence-Ugas: Showtime to distribute pay-per-view fight April 16 from AT&T Stadium https://t.co/huBOwjL6HI pic.twitter.com/MZ6SQn3JBf

— BoxingScene.com (@boxingscene) February 9, 2022
According to the Idec report,
BoxingScene.com has learned that Showtime will handle the production and marketing of the Errol Spence Jr.-Yordenis Ugas fight on April 16 in Arlington, Texas. Spence (27-0, 21 KOs), of DeSoto, Texas, and Cuba-born, Miami-based Ugas (27-4, 12 KOs) will fight for Spence's IBF and WBC welterweight titles and the WBA belt. of Ugas at AT&T Stadium, home of the NFL's Dallas Cowboys…
FOX Sports has handed out each of Spence's last three fights — victories over Mikey Garcia, Shawn Porter and Danny Garcia that have all headlined pay-per-view events. Showtime has televised each of Spence's previous three fights — victories over Kell Brook, Lamont Peterson and Carlos Ocampo — live on this premium cable channel.
Al Haymon's PBC has output deals with FOX Sports and Showtime.
PBC and Showtime have aggressively pursued (Canelo) Alvarez for a return engagement with those two companies for the Mexican superstar's next fight, which could be on May 7. If the four-division champion chooses to stay with PBC and Showtime, he will fight WBC middleweight champion Jermall Charlo (32-0, 22 KOs) in his next bout, a 168-pound title shot.
As we wrote on Tuesday, the 27-0, 21 KO Texan Spence confirmed the Ugas fight for April 16 at the massive 90,000 seat venue known as "Jerry's World" for the Cowboys owner Jerry Jones. He fought there three times in PPV, including his victory in December 2020 over competitor Danny Garcia.
It was Spence's first title defense, since his horrific car crash in Dallas in October 2019. The accident came just two weeks after he added the 147-pound WBC world title to his IBF championship in a victory decisive against Shawn Porter in LA Spence. , who later turned out to be driving impaired, sent his car catapulting and was ejected, suffering a concussion and a broken jaw.
As for Ugas, he is 27-4 and replaced Spence on two weeks' notice in August due to Spence's eye injury and possible surgery. Ugas then scored the upset victory in Las Vegas over Manny Pacquiao by decision at a defining moment for his career. He used his top jab and long right hand to keep Pacquiao at bay to score the impressive 12-round unanimous decision win.
Now that gives Ugas the chance to hold three of the 147-pound world titles and make the biggest payday of his career.
Spence-Ugas' apparent securing for PPV continues a resurgence for Showtime, which returned to its PPV model in late 2020 that took shape most prominently in the mid-1990s with former heavyweight champion Mike Tyson. . After the onset of the Covid 19 pandemic in the fall of 2020, they televised back-to-back nights world title defenses for the Charlo Brothers from the empty arena of Mohegan Sun Casino in Connecticut.
The network recently and prominently offered Fox Sports (and everyone else) the opportunity to get the Canelo-Caleb factory PPV last November.