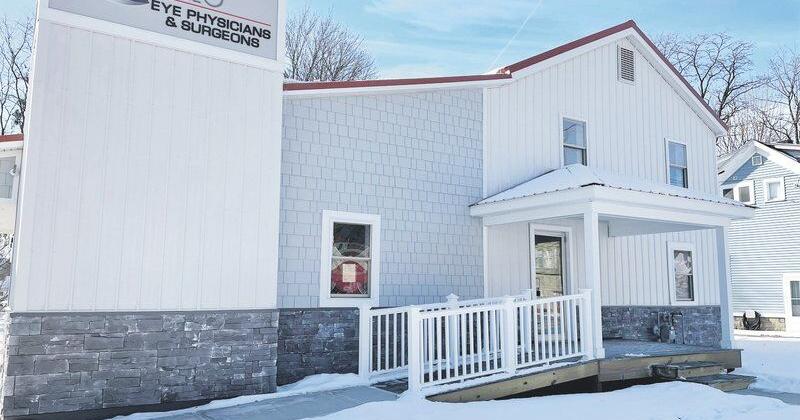 Opening of an eye surgery practice on Chestnut Street in Oneonta | Economic news
Patrick Costello has a vision for Oneonta.
The 53-year-old ophthalmologist launched the seventh branch of Costello Eye Physicians & Surgeons at 409 Chestnut St. in Oneonta with a ribbon-cutting ceremony in January.
"My brother, John, started the practice in 1995 and I joined in 2004 and we've grown quite rapidly since then," he said, noting that the entire practice includes four ophthalmologists and four optometrists, with one of each at the Oneonta branch. .
Expansion to Oneonta, Costello said, was equal parts preference and need.
"We're in Herkimer, Oneida, Madison, and Jefferson counties, and we're the largest firm in all four counties, but we wanted to expand," he said. "My wife is from Cooperstown, I had a sister in Hartwick, my mom went to SUNY Oneonta and I just think it's a really cool neighborhood. I've always loved the area…and had a satellite office in Sidney for the past two years, so I was at the Roberts Eyecare location and that's how I got here. When I looked to have a freelance office, it made more sense to go to Oneonta, since I work at AO Fox.
"But there is a need," Costello continued. "We attract a lot of patients from the south. We have a strong presence in Utica, Rome, Herkimer, Oneida, and Hamilton, so we're well represented along the Erie Canal corridor, and we sometimes attract patients two to three hours away, which makes it much easier to see these people. We have been open for a few months and I see patients from Hancock, Deposit, Cobleskill, Catskill, Schoharie. People know about our practice… and the word got out.
Construction of the Chestnut Street space, Costello said, began in June and was completed in October 2021. The medical office building includes space for another tenant, he said.
The services offered, Costello said, run the gamut.
"Our practice does over 3,000 cataract services a year and we see a lot of glaucoma and treat eye disease, but we also do routine eye exams," he said. "Eye diseases mainly affect older people, although some in childhood, but most occur in people over 50, so our population tends to be 60 and over, but there are certainly many patients we see who are of all ages.. We see everyone.
"We treat macular degeneration and diabetes," Costello continued. "We do a ton of eyelid surgery, (which is) plastic and cosmetic in a lot of people, but the majority of people have eyelids that interfere with their vision, or it's cancerous, and we'll do those procedures."
The response from new and repeat customers, Costello said, has been "fantastic."
"We are pretty much full every day we go to the clinic," he said. "I probably do 30 surgeries a month… and I expect that to grow rapidly. Our mission statement is to provide the most passionate and advanced medical and surgical eye care available in New York State and I want that to be how we grow. And few areas of this population density have a large surgical office like this down the street.
Costello said he was committed to staying current, despite pandemic-induced challenges.
"Technology is changing so rapidly," he said. "Every year there are new drugs, new devices, new surgical tools, new implantable lenses, new surgical devices for glaucoma, so it requires constant learning. If you don't attend seminars and conferences, you are falling behind in providing the most advanced technology. The hardest thing right now is the ebbs and flows of COVID and how that has affected our ability to perform elective surgery.
Costello said that, for him, providing such services is personal and rewarding.
"When I was 5, I had cataract and glaucoma surgery after trauma, and I just thought my eye surgeon was my hero," he said. "I'm that rare person who knew what he wanted to do when he was little. I love my job; I love going to work every day and I like being busy and I genuinely enjoy every minute of my day. It might be hard to believe, but it's a great job. You help people see. When their eye hurts, they want the fire to go out quickly, and I love being able to do that." Restoring sight is quite a fun job.
Costello Eye Physicians & Surgeons is accepting new patients, Costello said.
"We take all the insurance, and we never say no, including Bassett's (Preferred Provider Organization), where the (Bassett) staff can see us for free if they're on their plan."
For more information, including a list of available services and physician biographies, visit costelloeye.com or call 607-644-0556.
Costello Eye Physicians & Surgeons is open 8 a.m. to 5 p.m., Monday through Friday.