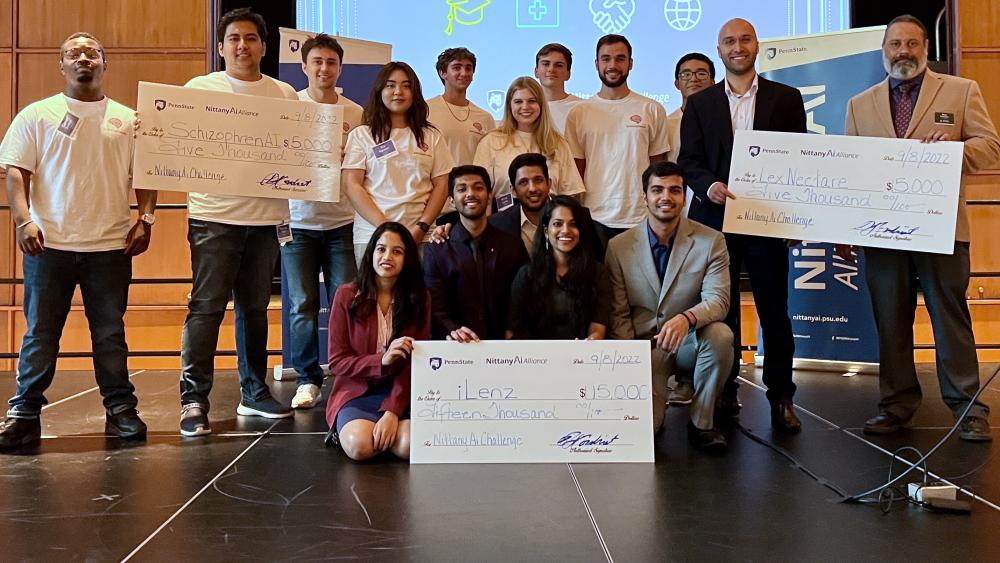 Nittany AI Alliance prepares students for development and leadership roles in AI
UNIVERSITY PARK, Pennsylvania — Students who provide solutions in health, education, environment and humanitarianism are making a difference in the world around them through the work they do in the framework of Alliance Nittany AI. Several of them received additional funding to continue their work in the field of AI during the "AI for Good Expo" on September 8.
Akanksha Anand is earning her Masters of Professional Studies in Data Analytics at Penn State Great Valley and is part of the team of students who received $15,000 to create iLenz, a tool that uses AI to provide insight. early detection of eye disease and promotes regular home monitoring. The team developed the solution while participating in the Nittany AI Challenge 2022.
"It was a great experience to work with the team on a wonderful project that will impact many people," Anand said. "I'm really thrilled and humbled to be selected as the winner and it gives us real motivation to move forward on this project."
Members of Anand's team, who are also pursuing a Masters of Professional Studies in Data Analytics at Penn State Great Valley, include Abhay Chamu Haridas, Dominic Thomas, Namratha Sri Mateti and Parv Bhatt.
Two other teams participating in the Nittany AI Challenge 2022 each received $5,000 to continue developing their solutions:
—LexNectare is a tool designed to guide lawyers or law students providing pro bono service through the legal elements of a claim, maximizing the client's chances of success. It was developed by Anthony Fernando, Scott Lovejoy, Jeremy Garcia and Lyubomir Avdzhiyski, all students at Penn State Dickinson Law in Carlisle.
—SchizophrenAI is a tool designed to help healthcare professionals objectively identify schizophrenia through online reviews. It was developed by Loc Phan, Eberly College of Science; Maria Czura and Gia Nguyen, College of Information Science and Technology; Carlton Jarmon, Smeal College of Business; Parker Sell, Thomas Foltz, John Keeling, Frederick Sion and Samarth Tehri, College of Engineering. All students are enrolled at Penn State University Park.
Brad Zdenek, innovation strategist for the Nittany AI Alliance, said students follow their passion by developing impactful solutions.
"Through the year-long Nittany AI Challenge, these teams have sought solutions that will make this world a better place by providing equitable access to legal resources, inexpensive diagnostic tools, and cutting-edge healthcare developments. mental health in rural areas and developing countries," says Zdenek. "They did this under extreme pressure from balancing the workload and the many distractions of student life. These students, along with students in all of our programs, are truly among the best of the best at Penn State.
Five alumni from the Nittany AI Challenge and Advance programs are recognized for their work in AI with prizes of $1,000 each from the "AI Excellence Awards in Penn State Outreach sponsored by Jonathan and Alana Dambrot." The recipients are Patrick Elisii, Mark Del Grande, Joshua Famous and Ritik Parmar of the College of Engineering; Jianxiang Gao from College of Engineering and Eberly College of Science.
Elisii is also president of the Nittany AI Student Society. He said his experience with the Nittany AI Alliance, along with feedback from members of the company, led his leadership team to launch the new "Nittany AI Leadership Academy".
"This program is intended to prepare first- and second-year students for the Nittany AI Challenge and Advance programs," Elisii said. "The program contains a combination of introductory, technical and entrepreneurial lessons, giving students a foundation to perform well in the most advanced Nittany AI programs."
Nittany AI Alliance programs are made possible through funding provided by industry leaders and collaborators including Dataiku, Leidos, Microsoft, IBM, Lockheed and John Deere.
Visit the website for learn more about AI programs and events.
The Nittany AI Alliance is a service of Penn State Outreach.