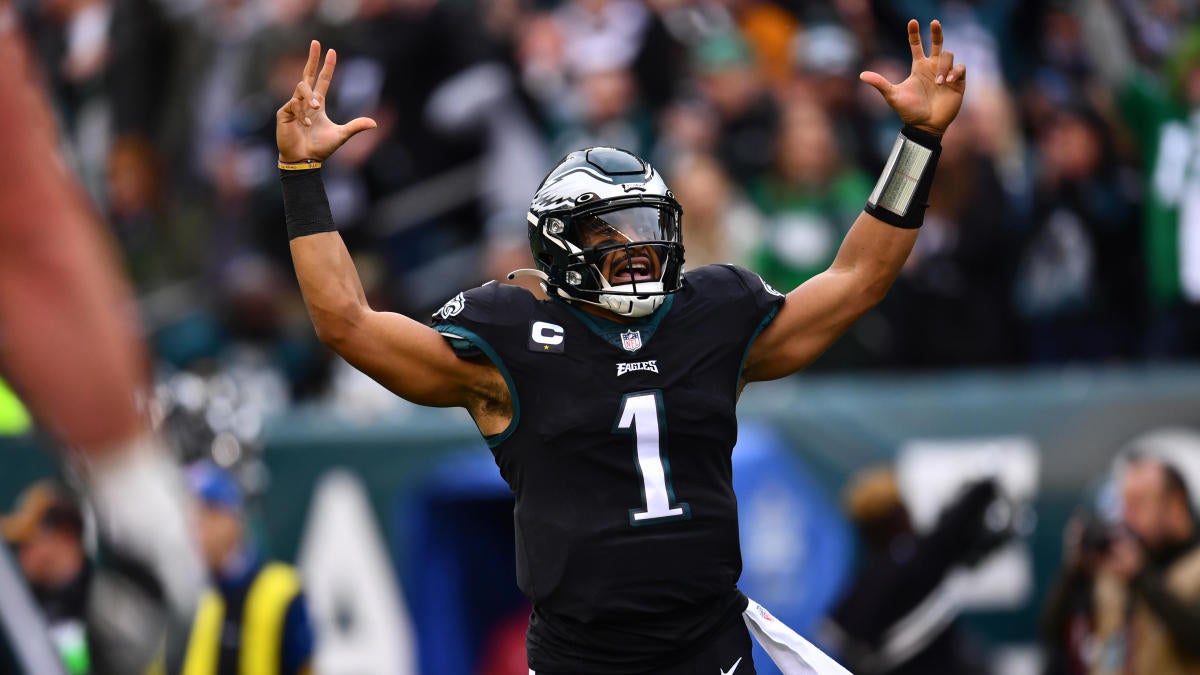 NFL insider notes: Eagles on run that could lead them to the playoffs, Browns, Bills in trouble
[ad_1]
Fly eagles fly! Fly eagles fly!
Okay, it's more: Run Eagles Run! Course Eagles Course!
But it does not matter. Let's not let semantics get in the way of a football streak that alters the narrative of the team playing in Philadelphia. Because the Eagles are playing some of the most interesting football in the NFC right now – they're off the mat and they've crept in screaming distance of the playoff pursuit. Just weeks after so many seemed ready to kick rookie head coach Nick Sirianni out of town, with near-rookie QB Jalen Hurts with him (he's only started a calendar year), the Eagles are approaching .500 with a slew of division games still to play and a chance to be high on their Week 14 recess.
The Eagles have won three of their last four games, and they're ranking opponents and racking up points. They have scored 138 points (!) During that time. Yes, it is quite substantial. Even the loss of Jordan Howard to injury didn't slow them down on Sunday as they passed through the Saints, with Hurts again in the lead. Hurts continues to protect football, make the shots that are there and provide a spark of improvisation in the hard-to-defend running game. They ran 242 yards on a tough New Orleans defense – making it pretty clear that their intention wouldn't involve a lot of downward intention.
Everyone knew they were running; nobody could do much about it. This is how you accumulate 37 minutes of possession time.
The Eagles entered that game with a record 761 rushing yards in the NFL since Week 7 – already 136 yards more than anyone in that span – and then widened that lead on Sunday. Miles Sanders is back in great shape. Defense is improving. And things could fall into place for Philly to kick off a bit… maybe even the one that will get them playing meaningful games in January. Because, yeah, 5-6 isn't great, but 9-8 and maybe 8-9 gets you in the game, and the Eagles are 4-3 in the conference, including wins over. head to head against potential wild card teams like New Orleans and Carolina. Food for thought.
They play for the Giants and Jets – imperfect teams themselves – for the next two weeks before their leave; it basically comes down to bus rides to the New Jersey Turnpike. After the week off, they play three of the last four games at home, with the only game on the road (Washington) also being essentially a bus trip. So, for all intents and purposes, their real journey is already behind them before Thanksgiving.
The Eagles have WFT and the Giants at home and in Week 18 they will face a Cowboys team that will most likely be locked in a playoff spot and eager to rest everyone ahead of the playoffs (or maybe that the first seed is already locked). Either way, keep an eye out for the Eagles. I like where they go.
Browns need a quick fix
Anyone else remember when the word was that Odell Beckham Jr. was holding back the Browns offense? Yeah, how ridiculous does that look now?
Cleveland has been reduced to a fairly predictable attacking outfit at this point, as their 13-10 home Lions survival highlighted. Baker Mayfield's limits are further exposed as he plays despite injuries, and the loss of right tackle Jack Conklin appears to be a real problem. There isn't much this attack can count on right now apart from Nick Chubb, wide injuries made their problems worse, and they're really lucky the Lions were playing with Tim Boyle in QB during of his NFL debut because they probably lost to someone else.
And there is nothing exciting about this defense either. For the second week in a row, he was cut to the ground. The Lions picked up where the Patriots left off – D'Andre Swift left and Cleveland suddenly gave up 352 rushing yards in just two weeks. They aren't built to play from behind right now, they don't do a lot of quick hitting and they'll face Baltimore twice over the next three weeks, with a bye in between.
They have a lot to deal with and little time with a busy schedule looming. The Browns are 3-3 in their last six games and have been limited to 17 points or less in five of them, and 10 or less in two of them. The Browns won 41 points against the Bengals three weeks ago, but produced a total of 61 points in their other five most recent games.
Bill breach has lost its mojo
The Bills offensive line looks week's worst, mistakes and turnovers keep piling up and at this point I'm not sure you can even expect Buffalo's offense to ever look like the level at which it's been running for most of 2020. It's just not there. It's not here with Stefon Diggs like it was a year ago. It's not here with Josh Allen either. And as I pointed out a week ago in what turned into a possible resounding victory over the lowly Jets, things are very hit and miss and the pace has been hard to find. Allen has almost pitched as many picks as all of last season (8-10) already, his completion percentage and TD percentage have dropped significantly, and his QB rating is 10 points lower than a year ago. year. And take a look at the upcoming Bills schedule. This is not a joke.
Yeah, it's really time to worry if Trevor Lawrence is in good hands with Urban Meyer. There were plenty of reasons to give the property a break over this hire – some of them unprecedented – but most of all the terrible decisions and the lack of judgment and embarrassment it caused. To himself and to the franchise, perhaps worst of all is what's going on with the development of the overall first choice.
You can check out my Sunday morning report for more details, but in the end, Lawrence has been wild again this week. He's a 9-for-22 combined for 99 yards in the first half of the last two games. The Jags have a total of seven first tries in these halves. Luckily they handed out Gardner Minshew or maybe he's playing there! Seriously, things got a little better during the garbage time – as they tend to do, ask Blake Bortles – but it's not going in a positive direction.
More notes on week 11
And the Lions? AFC North seems to bring out the best in them. It took a staggering game penalty delay and the longest field goal in NFL history for the Ravens to beat them, the Lions tied the Steelers last week (and frankly should have won that game too. ), then they almost beat the Browns on Sunday. Yes, the Bengals destroyed them, but it was a great performance for a 0-9-1 team against what some thought was the best division in football.
Is Jonathan Taylor making his way into the MVP conversation? May be. May be. But I had a feeling the Colts would fight their way to a win on Sunday and as long as Carson Wentz avoids the kind of silly forced mistakes that tend to happen, they look like a playoff team to me.
I have to give Steve Spagnuolo major props for knocking down the Chiefs' defense. They're releasing Chris Jones again and this unit has come a long way in the past six weeks.
There has been a lot of talk around the NFL that losing Derrick Henry will catch up with the Titans soon enough, and their magic carpet ride will run into trouble. Just surprised it was against Houston, in a relative landslide, on a day the Texans are averaging 3.1 yards per game. It's hard to do, even when the QB is throwing four picks. Also at the height of the AFC course, where no one keeps this potential seed for very long without reopening the race right away.
It was a borderline crime for Wink Martindale to call for a total blitz, sending eight out of fourth and 11 in the final minutes to milk a two-point lead, but all credit to the Ravens for continuing to breathe the wit and determination under duress. Earning another comeback victory – and this time with replacement QB Tyler Huntley in his first NFL start, on the road no less – is no joke, and they continue to overcome injuries and adversity at image of head coach John Harbaugh. They're not lacking in guts, that's for sure.
[ad_2]