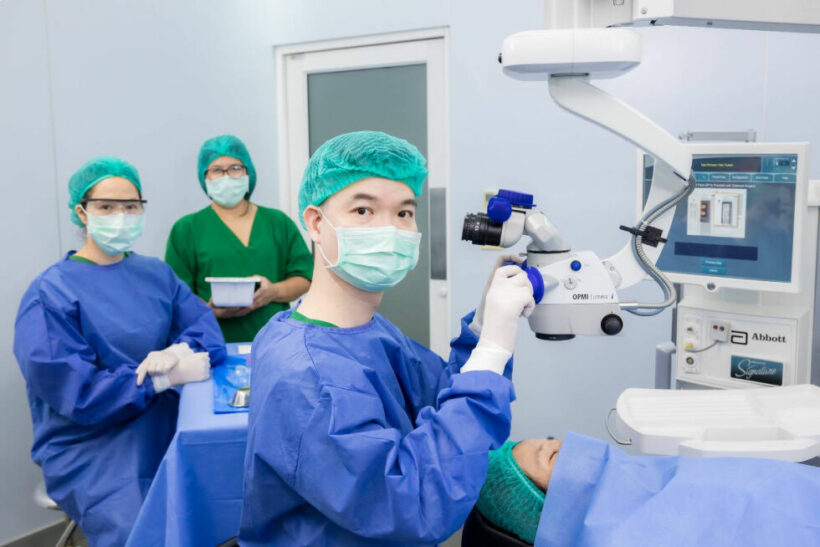 LASIK Eye Surgery with Top Procedures in Thailand
Press release
Breakthroughs in new technologies and procedures have made refractive surgery today safe with a low rate of complications.
The main benefits of refractive surgery in Thailand include state-of-the-art procedures at award-winning hospitals like Thonburi Bamrungmuang, usually at a fraction of the cost you'll pay in your own country. Combine that with the excellent service that Thailand is famous for and an idyllic destination to recuperate, and your eyes will well and truly be opened.
Thonburi Bamrungmuang Eye & LASIK Center provides diagnostic and treatment services for eye problems related to laser light. Its team of specialist ophthalmologists deals with corneal and vision correction for many conditions. This includes an impressive range of treatments for common eye diseases, cataracts, retinal diseases and vision disorders.
TREATMENTS
The treatments available are:
Treatment of myopia and hyperopia with LASIK

Diagnosis and treatment of glaucoma disease

Diagnosis and treatment of all types of eye accidents (eye trauma)

Diagnosis and treatment of corneal disease

Diagnosis and treatment of eye diseases in children (pediatric ophthalmology)

Diagnosis and treatment of neuroophthalmological diseases

Diagnosis and treatment of eye inflammation (uveitis)
LASIK (Laser In-Situ Keratomileusis) is a surgery that can correct nearsightedness, farsightedness, and astigmatism using laser light called the Excimer laser.
LASIK consists of two main steps:
The first is the glass layer separation process using corneal separation by Femto Laser. It only takes 30-60 seconds to separate the corneal layer as thin as 100 microns. This is the most sensitive part of the procedure.
Then begins the second stage, the laser firing procedure using the Excimer laser to adjust the surface of the cornea to the proper curvature. This allows light and vision to pass through the refracted eye to the viewpoint.
This incredible surgery only takes 15 minutes per treatment on both sides. It offers high precision and is capable of maintaining visual acuity from 0.75D to –10.00D, depending on the thickness of the lens. The next day, the patient already has 80-90% visibility. Before the surgery is undertaken, a patient will first have a thorough examination to check the condition of the eyes.
LASIK VISION CORRECTION
LASIK vision correction focuses on permanent vision correction. It is suitable for people with myopia – 0.75 to -10.00 D, or astigmatism not exceeding -5.00 D, depending on the thickness of the cornea.
PRK VISION CORRECTION
Similarly, PRK Vision Correction is a permanent vision correction procedure that usually takes 2-3 days to recover. It is particularly suitable for people with a thin cornea or myopia of -0.75 to -4.00 D, and astigmatism not exceeding -3.00 D-.
TRAN PRK VISION CORRECTION
Tran PRK vision correction has a recovery time of approximately 1-2 days, shorter than PRK, and provides permanent results. It is suitable for people with a thin cornea or myopia of -0.75 to -6.00 D and astigmatism not exceeding -3.00 D-. Doctors use the laser to shoot directly on the cornea to make the wound smoother and ensure the wound heals faster.
WHAT'S UP?
The technology in this area is constantly evolving. Until now, the most advanced method of vision correction has been LASIK surgery. However, while LASIK remains an excellent choice for a wider patient population, the innovative new procedure, Relex Clear, is an excellent alternative for patients who require surgical treatment for myopia or astigmatism but lack thickness in the cornea.
HOW DOES RELEX CLEAR WORK?
Relex Clear is also an incredibly gentle and precise minimally invasive refractive surgery. In this process, the lenticule is mechanically removed through a small incision, whereas in LASIK, a femtosecond laser is used to cut a corneal flap. With Relex Clear, the inner corneal tissue is separated into a 3D shape (lenticule) through the use of a femtosecond laser, after which the lenticule is removed through a small incision in the corneal surface of only 2 to 4 millimeters, this which reshapes the cornea and improves visual acuity.
The main difference between this and LASIK is the corneal flap. Since Relex Clear does not include this procedure, patients can avoid possible complications from flap changes or injury in the future. The Relex Clear procedure also promises faster healing time, fewer complications, and better results while reducing eye irritation. Most patients can resume normal activities a few days after surgery.
WHAT IS SUITABLE FOR YOU?
Determining which is suitable for different forms of eye surgery will depend on the doctor's advice and the condition of the patient's eyes. Treatment will usually be offered to people aged 18 or over who have had fixed vision for at least a year.
You will not be allowed to perform LASIK or Relex Clear surgeries if you are pregnant or breastfeeding if you have eye conditions such as cornea, severe dry eyes or macular degeneration. Other physical conditions may also disqualify you from treatment if they can potentially affect wound healing – such as SLE, HIV, diabetes, cataracts or glaucoma, to name a few.
REMOVE CATARACTS
For older patients, the Eye & LASIK Center offers new hope and changed lives, especially when it comes to cataracts.
Cataracts are very common as we age. In countries like the United States, it is estimated that more than half of people aged 80 or over have cataracts or have had surgery to remove cataracts. At first, a patient may not notice they have a cataract, but over time the cataract can cause vision to become blurry, cloudy, or less colorful.
One of the essential specialties here is Femtosecond Laser Assisted Cataract Surgery or FLACS. Using a clean corneal incision, precise circular capsulotomy, and nuclear softening, cataracts are removed with incredible results.
A COMPETENT AND DEDICATED TEAM
The Eye & LASIK Center's acclaimed team is led by one of Thailand's most distinguished leaders in this field. Associate Professor Amporn Jongsareejit is the center's award-winning medical director as well as the CEO of ACRS International LASIK Center Company.
He was responsible for establishing the Thai Society of Manual Small Incision Cataract Surgery (THMSICS) in 1995 and remains its founding president. He also established the Thai Society of Cataract & Refractive Surgery (THCRS) and is the first president of this society.
Doctor Amporn is credited with many inventions in this field which are now used by specialists all over the world. His breakthroughs include the invention of surgical techniques for white and black cataract with phacoemulsification in 1996, "Phaco-drainage" and "Amporn Tube" surgical technique in 1999.
A WHOLE NEW LOOK AT LIFE
If you've always dreamed of improving your vision, Thailand is now one of the best destinations in the world to consider for a medical vacation. The result will most likely ensure you have a whole new outlook on life.
_______________________________________________________________________________________________________________________
Register by clicking on the link–-> Cataract Prevention Month – Free Eye Checkup The Cataract Health Fair event runs from August 15-25, 2022.
Please visit and click on the links take advantage of our special packages for Lasik Special Promotion Limited Time Offer!! and Special Checkout Promotion Limited Time Offer!!