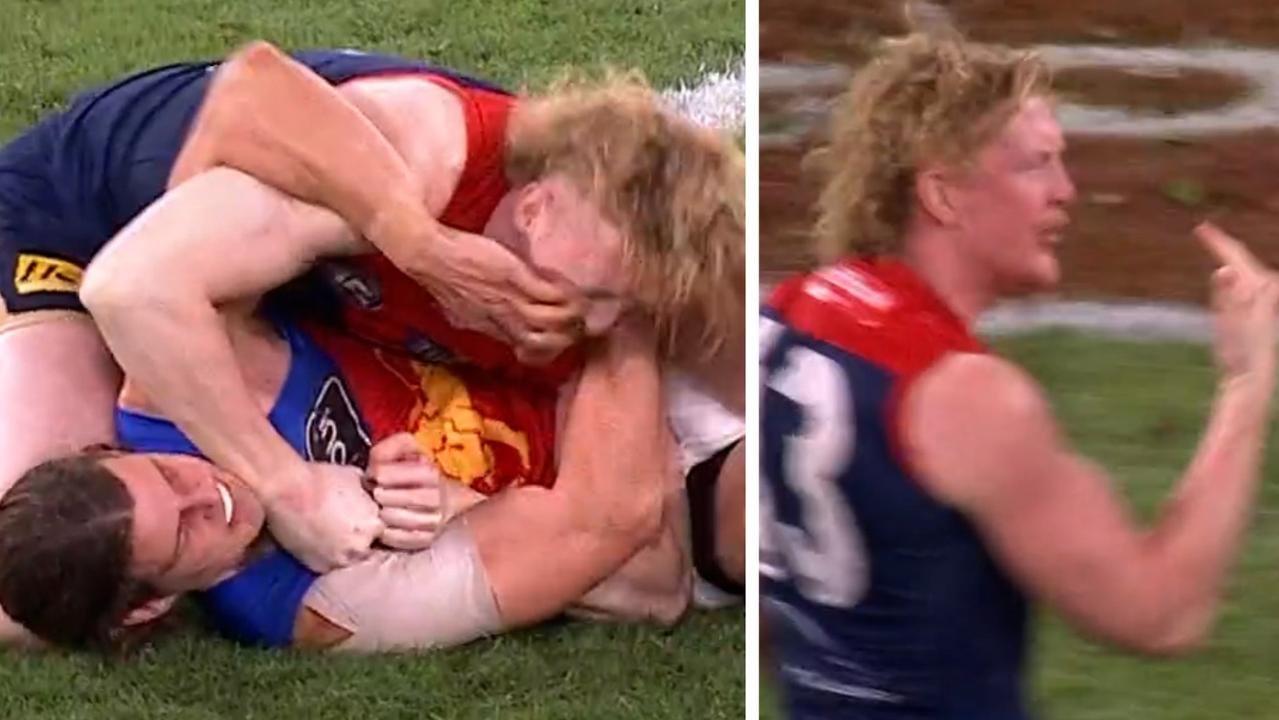 Jarrod Berry suspended for eyegouge on Clayton Oliver, Melbourne Demons vs Brisbane Lions, MRO, match review verdict
The Brisbane Lions will challenge Jarrod Berry's one-week ban for an alleged eye gouge on Melbourne star Clayton Oliver, reports 7News' Tom Browne.
A fascinating showdown in the finals court looms after Brisbane semi-final hero Berry was offered a suspension for his actions in a semi-final brawl with Oliver on Friday night.
The Lions now face the prospect of being without Berry for their preliminary round against Geelong after he was suspended from one game for making 'unreasonable or unnecessary contact' with Oliver's eye area during the Lions win over Melbourne on Friday night. The incident was classified as intentional driving, low impact and high contact.
Watch all matches ahead of the AFL Grand Final live and ad-free live on Kayo. New to Kayo? Start your free trial now >
The Lions will now head to court to challenge the suspension imposed on Berry, who claimed there was 'nothing deliberate' about the contact he appeared to make in Oliver's eyes during a malicious third term at the MCG.
As the two argued with Berry pinned to the MCG by Oliver above, the vision showed the Lion reaching for his opponent's face.
The Lions midfielder on Friday night said he was not worried about a possible ban, saying the moment was "just a little fight in the center of the MCG" and "part of the contest".
But Melbourne champion Garry Lyon said Berry would likely have a case to answer. Lyon said it was "not a great look", adding on Fox Footy: "If they get through this he's going to be in a world of pain.
"I don't want to use the word eye gouge, but we know that when you find yourself in this situation, sometimes you do things to try to get out of it.
"Any hand around the eye or movement around the eye will always be something the MRO will look at very harshly.
"It's the first movement – ​​it's a slight raking movement of the eyes. I don't think you can be a bit guilty of that.
Seven-time All-Australian Nathan Buckley admitted it was a "really poor moment" from Berry and said he was "not in a great position".
"It's so bittersweet. What got them this game was this game (Berry vs. Oliver) and this second-half performance from a young player, but it's very unlikely to see next week given this incident," Buckley told Fox Footy.
Fox Footy panel member Nick Riewoldt attempted to build a case in Berry's defense.
"I think you have to take into consideration that Berry is on his back and has his arm over his face/throat. You are pretty defenseless in this situation," he said.
"(Berry's actions are) going to be frowned upon.
"It will be the defense – that he is defenseless on the pitch."
Reporter Jon Ralph told Fox Footy there was something in the "helpless defense" if the MRO cited Berry's actions.
"I think he's conflicted," he said.
"He doesn't even need to be found guilty of gouging out the eyes… all he needs to be found guilty is unnecessary or unreasonable eye contact.
"If it's rated as intentional, low impact, and face or eye, well, that's a one-week suspension.
"If he can get it assessed as reckless – (arguing) 'I didn't have my eyes on him, I wasn't sure what I was doing, it was an escape move', that's the best option for him to play."
The moment spoiled what was a brilliant effort by Berry to turn the game in Brisbane's favour.
After being held by young opponent Deven Robertson in the first half, Lions coach Chris Fagan made the tactical decision to move Berry to Oliver for the second half. And the Lion immediately got under Oliver's skin.
The Berry incident was the only incident cited in the MRO's report from the semi-final.