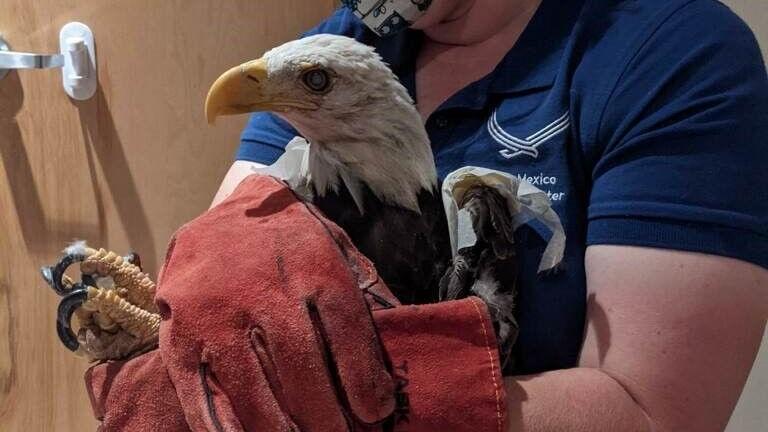 Horse Shelter fundraiser aims to help pay the hay bill | Paws
[ad_1]
The drought has increased The Horse Shelter's cost of hay by 21% this year, and with the shelter close to capacity with 78 horses and an annual food bill of $ 120,000, the goal of a fundraiser and of an auction is to bring in $ 50,000.
The online auction runs until 5 p.m. Sunday.
Santa Fe Animal Shelter Unveils Art Exhibit
The Santa Fe Animal Shelter & Humane Society, 100 Caja del Rio Road, recently unveiled a new art exhibit, "Driving Change Through Art". The exhibition is presented on giant wooden easels along the alley of the refuge. Each painting is an interpretation of the pets of a family of local and national artists.
Earlier this year, the shelter sought out pet owners who wanted to see their pet redrawn by volunteer artists in order to raise funds for homeless animals in the community.
The display features 12 brightly colored animal murals.
Española Humane will be in a pet food store
Española Humane will have puppies and kittens for adoption from 11 a.m. to 2 p.m. Saturday at Shine Pet Food, also known as Marty's Meals, 506 W. Cordova Road.
All animals are sterilized, vaccinated and ready for loving families.
In addition to adoptions, the event features information about Española Humane, including hospitality and volunteer opportunities and other ways to support the organization.
Bald Eagle Dyami, treated at the New Mexico Wildlife Center in Española, is recovering from cataract surgery.
Dyami was operated on at the VCA Veterinary Care Animal Hospital and Referral Center in Albuquerque on August 10.
Dyami woke up healthy, but a little dizzy, and with his feathers ruffled. He is recovering at the wildlife center hospital. He will continue to be treated with eye drops for at least two weeks, and he should be able to return to his usual home. The operation was funded through donations.
[ad_2]