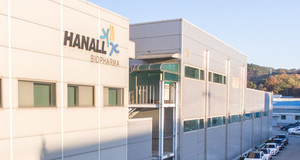 Hanall's Chinese Partner Begins P2 Trial to Treat Thyroid Eye Disease
Hanall Biopharma said on Wednesday that its Chinese partner Harbor BioMed began the first administration to a patient of HL161 (ingredient: batoclimab), a new autoimmune disease drug for the treatment of thyroid-associated ophthalmopathy. .
Harbor BioMed plans to evaluate the safety and efficacy of HL161 during the Phase 2 clinical trial.
Thyroid-associated ophthalmopathy is a disease in which lesions and inflammation of the fatty tissue around the eye appear and can occur as a complication of Graves' disease. The main symptoms include bulging eyes, eyelid edema, double vision, and visual impairment. Hospitals currently use steroids to treat patients with moderate to severe illness.
However, there is no other method of treatment than surgery in severe cases, such as orbital decompression. Therefore, there has been a high unmet medical need for further treatment.
In addition to treating thyroid-associated ophthalmopathy, Harbor BioMed also conducts clinical trials for three other autoimmune diseases: myasthenia gravis, neuromyelitis optic and thrombocytopenia.
Hanall said he expects the HL161 development area to continue to grow.
In September, Harbor BioMed received approval of its application for an investigational new drug from the Chinese National Medical Products Administration to sing HL161 for the treatment of chronic inflammatory polyneuropathy.
"HL 161 is a new fully human monoclonal antibody drug that reduces pathogenic antibodies in the body and is in clinical trials for several autoimmune diseases caused by such antibodies," the company said. "The treatment is particularly under development as a subcutaneous injection. Which allows direct administration to patients. Therefore, we expect the treatment to be very convenient."
Hanall exported the HL161 technology to Roivant in Switzerland and Harbor BioMed in China in 2017 for approximately 700 billion won ($ 594.1 million). Additionally, Hanall will receive royalties based on sales if the company and its partners are successful in bringing the treatment to market.