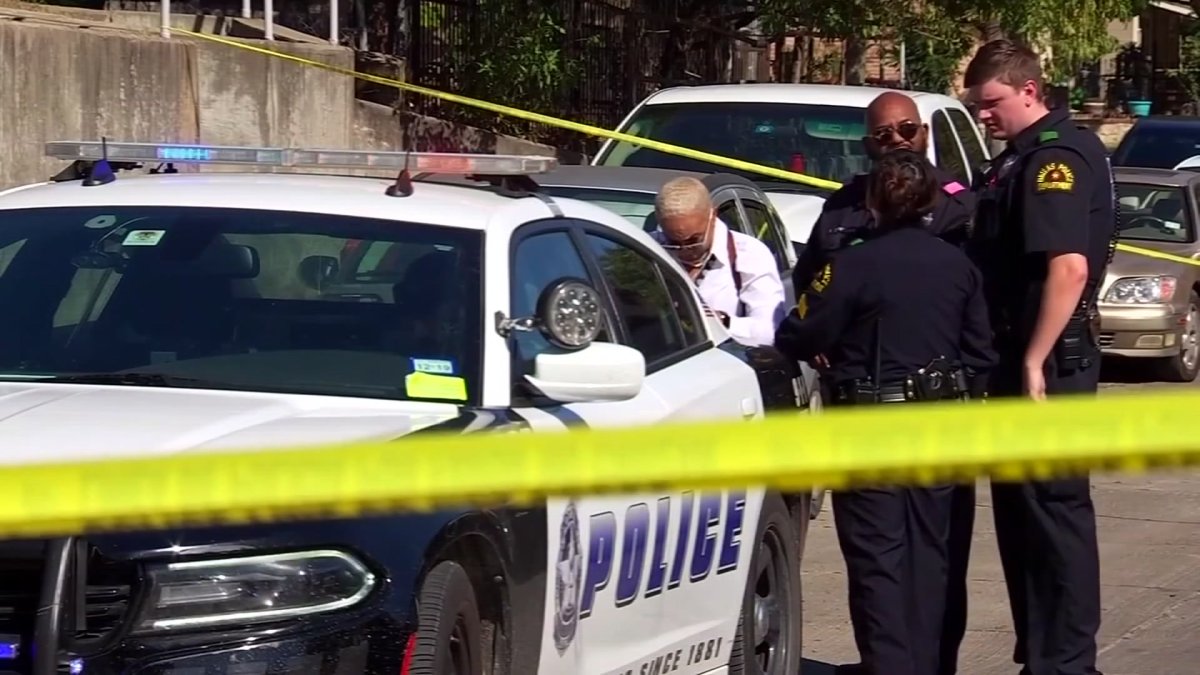 Dallas to take action to reduce violent crime in 'problematic' apartments – NBC 5 Dallas-Fort Worth
The Dallas Police Department is preparing a new strategy to further crack down on violent crime by targeting problem apartments across the city in communities where crime and code violations are rampant.
This is part of an ongoing partnership between the city and the police to reduce crime which had been increasing in recent years.
Although overall crime is down, the city saw an increase in murders in January compared to the same month last year.
As of February 14, 2022, Dallas had recorded 30 murders for the year.
On Monday morning, police responded to a shooting along Wadsworth Drive and found a man who had been shot on Sunday evening. The victim has not been identified.
In another murder, police responded to a shooting call in northeast Dallas early Sunday morning and found a 61-year-old woman, dressed in black, lying on the street.
The Dallas County Medical Examiner's Office identified the victim as Lisa Avery.
Avery had been shot several times with a rifle, according to DPD.
She was found along Fair Oaks Cross near Whitehurst Drive, an area with many apartments.
Dallas police addressed the issue of apartments and violent crime Monday afternoon ahead of the city's public safety committee meeting.
DPD Maj. Paul Junger updated council members on January's crime statistics as well as the department's crime reduction plan that targets crime hotspots across the city.
"Overall, violent crime decreased by 15.71% in 2022 compared to the same period in 2021," Junger said.
Aggravated assault still leads violent crime in the city, but has fallen for the sixth month since DPD's tackling crime plan began.
The number of illegal firearms and drugs seized also increased in January.
Robberies also registered a drop, according to DPD.
However, January saw an increase in murders, recording 21 people murdered in 2022 and 18 people murdered in the same month last year.
Most homicides involved "unknown circumstances and unknown relationships between the killer and his victim(s)." Four victims involved domestic violence, according to DPD.
Police say 11 murders took place in city apartment complexes, more than in single-family homes, parks or highways.
Apartments were also the second most common locations for serious assaults in January, behind single-family homes, according to DPD.
"I feel like as the summer progresses, that's going to change," Junger said, predicting that apartments could overtake houses as filming locations. "But next month we will discuss our complex strategy to turn an apartment complex into an apartment community."
The city's code compliance department also briefed the committee on Monday, indicating what part of DPD's plan may include next month.
The department chief said developers and property managers of properties deemed a "problem" will be invited to attend free crime reduction training symposia with police and the Apartment Association of Greater Dallas.
In the long term, code compliance requires the city to create a full-time Nuisance Response Team as part of the police department's crime reduction plan.
The team would investigate habitual criminal properties, from apartments to bars and short-term rentals, seeking voluntary compliance to reduce crime and code violations.
The team could include a city attorney, a code inspector, and a neighborhood police officer.
"We're on a good trajectory," Dallas Mayor Eric Johnson said, reacting to the overall drop in crime statistics. "I won't be happy with crime in the city until we are the safest city in the United States and even then one homicide is too much."
Johnson said there's no doubt Chief Eddie Garcia's crime-fighting plan, as well as the mayor's task force recommendations, are working, but cautions 'we can't look at it overnight. day, week by week, month by month," he said. "We have to look at it in big chunks. Even year after year, it can be a little dangerous to watch. But we like the path we're on and we think we're headed in the right direction.