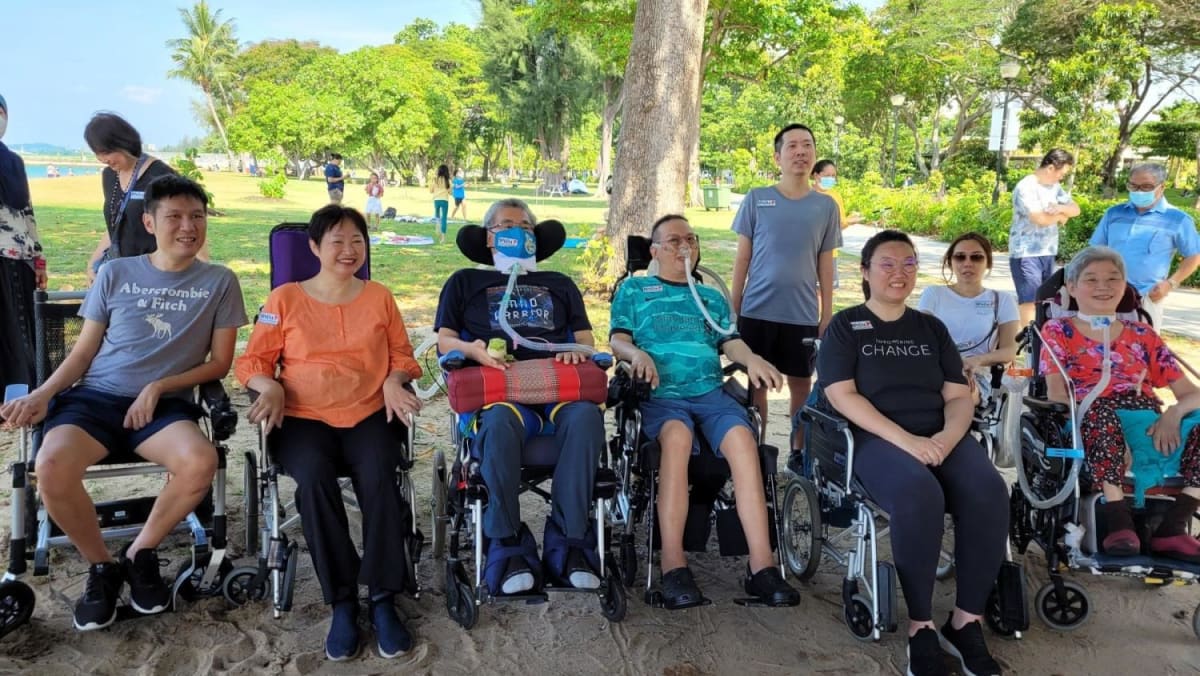 ALS patients and families have come together for a year to form a 100-person support group against 'foreign diseases'
SINGAPORE — Procrastination has no place in Mr. Ooi Lin Kah's life.
Diagnosed with a disease that is tightening its grip on him and will end up stealing his life, the 64-year-old man tried hard during the time of the Covid-19 pandemic to do his utmost to raise public awareness of the disease and to reach out to people who suffer in the same way.
In a final effort to make the most of his days, he wrote and compiled – using only his eye movements to control a gaze-enabled device – a 100-page book called Dignity, Care and Hope which he later self-published.
Mr. Ooi suffers from amyotrophic lateral sclerosis (ALS), also known as Lou Gehrig's disease. It was a degenerative neurological disease that killed British scientist Stephen Hawking and American baseball player Gehrig of the New York Yankees.
As brain neurons responsible for controlling voluntary muscle movement rapidly deteriorate, alert and active minds are trapped in a body that can no longer control basic functions. There is no cure and for those who suffer from it, no hope of recovery.
Family and friends watch helplessly as their loved ones become completely immobilized in the later stages and they can no longer swallow, eat, speak or even breathe.
Mr Ooi, a former engineer who was an avid runner, has faced his mortality daily since his diagnosis in 2013, when he was 55.
When he told his doctor about losing meaning in his life, the doctor encouraged him to use his remaining days to leave a legacy – by starting an organization that will help motor neuron disease patients overcome loneliness. and despair.
The doctor is Dr Chan Yeow of Tan Tock Seng Hospital (TTSH), who oversees Mr Ooi's respiratory care.
After Mr. Ooi raised awareness about the disease through an interview with TODAY in 2020, more people with motor neurone disease and their families reached out to him through doctors.
Many of them connected through word of mouth. Some met randomly from encounters at the clinic.
Prior to the interview, Mr. Ooi and some patients had a support group at the National Institute of Neuroscience, but group meetings stopped after the Covid-19 pandemic began, he said.
As the new support group gained traction, some of the motor neuron disease patients, their carers and volunteers last year set up a registered society called the Motor Neurone Disease Association Singapore, or MNDa in abbreviated.
In doing so, they connected with more patients and their families living in Singapore.
This was done with the support of several medical professionals, including Dr. Chan, who is the director of the home ventilation and respiratory support service at TTSH.
Dr. Chan is also a senior consultant in the hospital's Department of Anaesthesiology, Critical Care and Pain Medicine.
He now sits as one of the doctors on the MNDa advisory committee and helps them design advocacy strategies.
Dr Chan said ALS patients face many hurdles, whether it's coming to terms with the painful diagnosis or coping with the ongoing losses in bodily function.
Since launching MNDa last year, the group has brought together more than 50 patients in Singapore living with the disease and as many of their loved ones – all of whom are experiencing varying degrees of isolation and loneliness, with some progressing to deep depression.
Mr. Ooi said, "It is our common dream that MNDa can be a dedicated support network for the motor neuron disease community in Singapore.
He found that his participation in the creation of the association also gave him meaning and fulfillment in life.
Having no voluntary muscle control from the neck down, Mr. Ooi relies primarily on his trusty gaze-activated device to communicate his thoughts.
It was introduced to her by Ms. Tan Xuet Ying, a senior speech therapist at TTSH, and allows her to type on a computer using eye-tracking technology.
He conducted interviews with TODAY via emails and WhatsApp messages, responding quickly to questions.